As the COVID-19 pandemic continues to restrict lives in the UK, all public services are pursuing digital strategies with greater purpose.

The door is open for global tech firms to bring innovation to UK public services and deliver life changing tech.

We're already delivering tech PR and comms campaigns to global and EMEA tech businesses from Denmark, the Netherlands, Spain, Israel, Italy, Australia, New Zealand and the USA.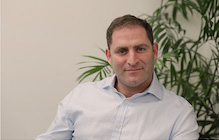 Download our exclusive interview with Tsachi Moshinsky, UK Director of OrCam, an Israeli medtech company and one of the world's 38 healthtech unicorn companies.