#21 – panel discussion highlights: Government innovation in science and technology, where next?
Written by Luke Allsop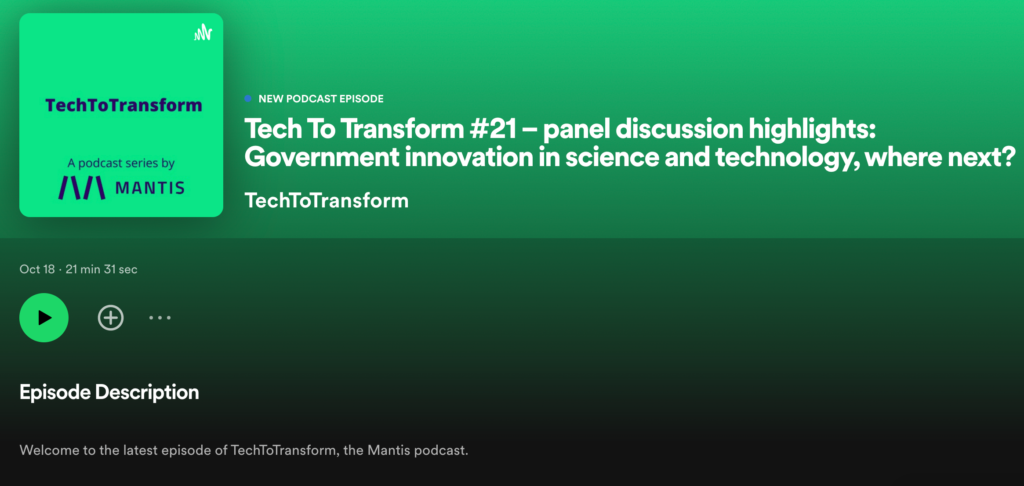 Welcome to the latest episode of TechToTransform, the Mantis podcast.
This episode is going to sound a little different because it's a recap of the event the Mantis team held in Bristol on the 10th October. 
Mantis PR took part in this year's Bristol Technology Festival, where we gathered a fantastic panel to discuss 'Government innovation in science and technology, where next?'
Chaired by Eleanor Willock, Head of Mantis, the panel discussion and networking event gave the science and tech community access to the Government's own perspective on the topic, VC input on the industry investment landscape, and discussion opportunity with growth and collaboration specialists.
A world-leading programme of innovation in science and tech is a huge Government priority. How does it manage its ecosystem and partnerships to achieve this? How can firms wanting to work with public sector innovators become suppliers and grow their business? Where are investors focused right now? How will the NHS and health tech industry collaborate? These were just some of the questions the panellists tackled during the discussion.
The full, uninterrupted panel session is already on website, but we've included some highlights here too, particularly some advice and insight from panellist Dr Chen Mao Davies, CEO and Founder, LatchAid, a parenting and breastfeeding support app. Chen was also a 2021 Innovate UK Women in Innovation Award Winner.
Chen then discussed the types of funding her business has received to help it grow, which led the conversation on the do's and don'ts for innovators looking for investment. 
Other panellist included: Matt Newman, Deputy Director of Accelerated Access Collaboration for Innovation, Research and Life Sciences, NHS England; Alex Leach, Acting Director of Innovation at the West of England AHSN, and Hugo Villanueva, Biotech and Health Specialist VC, Octopus Ventures.
Take a listen.