Labour Party Conference: key takeaways for the public sector
Written by Luke Allsop
As we wave goodbye to another summer (a wet and miserable one to say the least) it's time to look ahead at the political landscape as we welcome autumn party conference season and take a deep dive into last week's announcements from the Labour party.
Keir Starmer's speech didn't get off to the best of starts as the Labour leader was interrupted by an onstage protestor and covered in glitter. Recovering from the somewhat bizarre and unsettling incident, he quite literally rolled up his sleeves, removed his jacket and outlined his promises for a Labour government if successful at the next general election.
So, what have we learned from the Labour party in the past week and what do the commitments and promises mean for the wider public sector?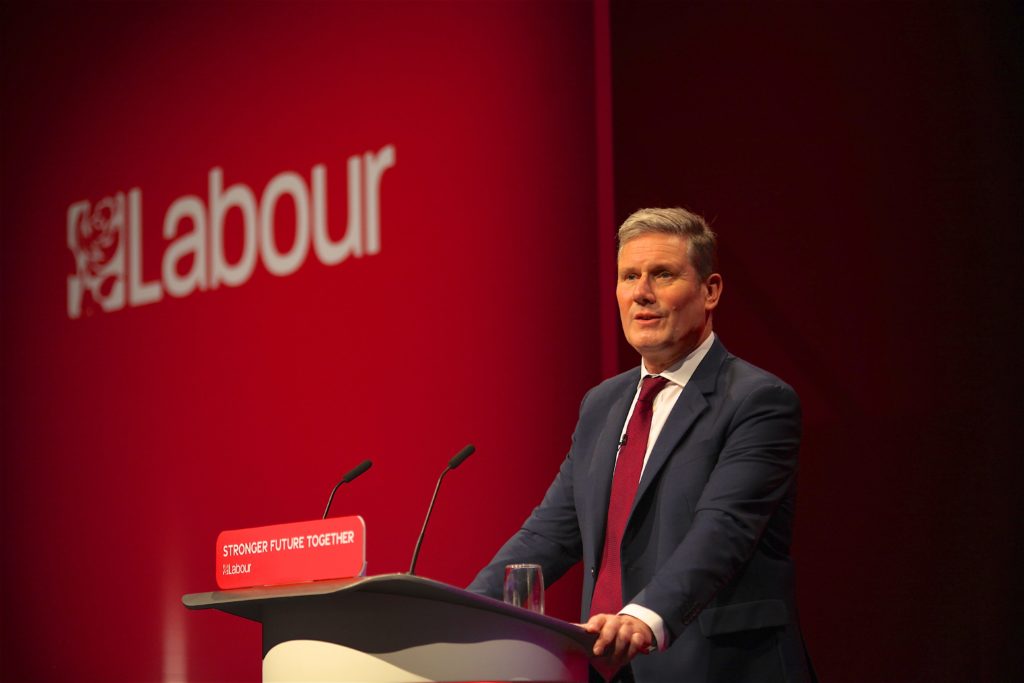 1) A  commitment to housing and supporting local authorities
In the Labour leader's speech, the 'five national missions' were unveiled to outline the key areas that the party would target to bring greater change to the United Kingdom. One of the areas that he spoke at length about was around housing and a pledge to build 1.5 million new homes in the first five years.
Labour will also aim to increase the level of affordable and social housing including freeing up funds for councils and housing associations, so they can build more homes for renters. This would give local authorities greater powers to negotiate with housing firms to build in the required areas, which has also been promised by Labour.
Alongside this, Starmer also spoke about how Labour would fix how councils are funded in light of the bankruptcy crisis that Birmingham City Council faced last month. Labour would aim to change the funding settlement for councils like Birmingham, providing a more long-term approach compared to the current short-term planning that is in place.
2) Clean energy for the future
The Labour party announced the creation of Great British Energy, a new publicly-owned clean energy company. By using renewable energy sources such as sun, wind and wave, Labour aims to:
Save £93 billion for UK households
Deliver 100% clean power by 2030, cut  bills and deliver energy security
Create thousands of  local jobs and make the UK energy independent
3) Getting health and care back on track
Earlier in the week Shadow Health Secretary, West Streeting, outlined a plan worth £1.1 billion to transform both health and care in England. The plan would see NHS staff being paid extra to complete overtime shifts during evenings and weekends, allowing more procedures to take place with the aim of cutting waiting lists.
The introduction of a proposed 'Fit for the Future Fund' is promised to give the NHS access to the latest and greatest technology to help cut waiting times. The fund is expected to double the number of scanners to speed up diagnosing and issuing treatment for patients. Mr Streeting also promised a neighbourhood health service which would see more GPs and a closer connection between the community and hospitals. Focusing on community services, Labour plan to introduce mental-health hubs, giving every school access to dedicated mental-health support for pupils.
The Shadow Health Secretary also referred to Labour's stance on social care. He promised that a Labour government would launch a workforce plan to address recruitment and retention in the sector, introducing the first-ever fair pay agreement for care professionals. The workforce plan would mark one of the first steps in Labour's vision for a National Care Service.
4) A future for education
Labour's mission for education focusses on 'tearing down the barriers to opportunity' by:
Boosting child development and ensuring half a million more children will hit their early learning goals by 2030
Seeing a demonstrable rise in young people's school outcomes over the next 10 years by building life skills
Expanding high quality education, employment and training pathways for people by 2035
The party also set out plans for teaching 'real world' maths skills. It wants children to start learning financial literacy and budgeting by the age of four and announced the Teacher Training Entitlement plan – a centre for upskilling primary school teachers who are not maths teachers with the right skills and knowledge to deliver high class maths teaching. This is said to be funded by taxing education colleges and private schools who previously received tax breaks.
5) A plan for policing: more bobbies on the beat 
Labour has pledged to a Community Policing Guarantee to make streets safer, by introducing town centre patrols and 13,000 more neighbourhood police and PCSOs. With key targets within a decade to:
Halve the level of violence against women and girls
Halve the incidents of knife crime
Raise confidence in every police force to its highest levels
Reverse the collapse in the proportion of crimes solved
As the glitter settles and we gear up to the next general election, due by January 2025, only time will tell whether the party has truly convinced voters what a Labour government will mean for them.