Jump rope fitness, the home of Tolkien and advice for the future – the mindset edit
Written by Eleanor Willock
Next up in the latest of our pairing pieces, where two new colleagues ask questions they really need the answers to, our Mantis Account Manager Luke Allsop speaks to our Associate Director, Lucy Buck. They talk about the world of jump rope fitness, university life with The Lord of the Rings author JRR Tolkien and career advice for the future.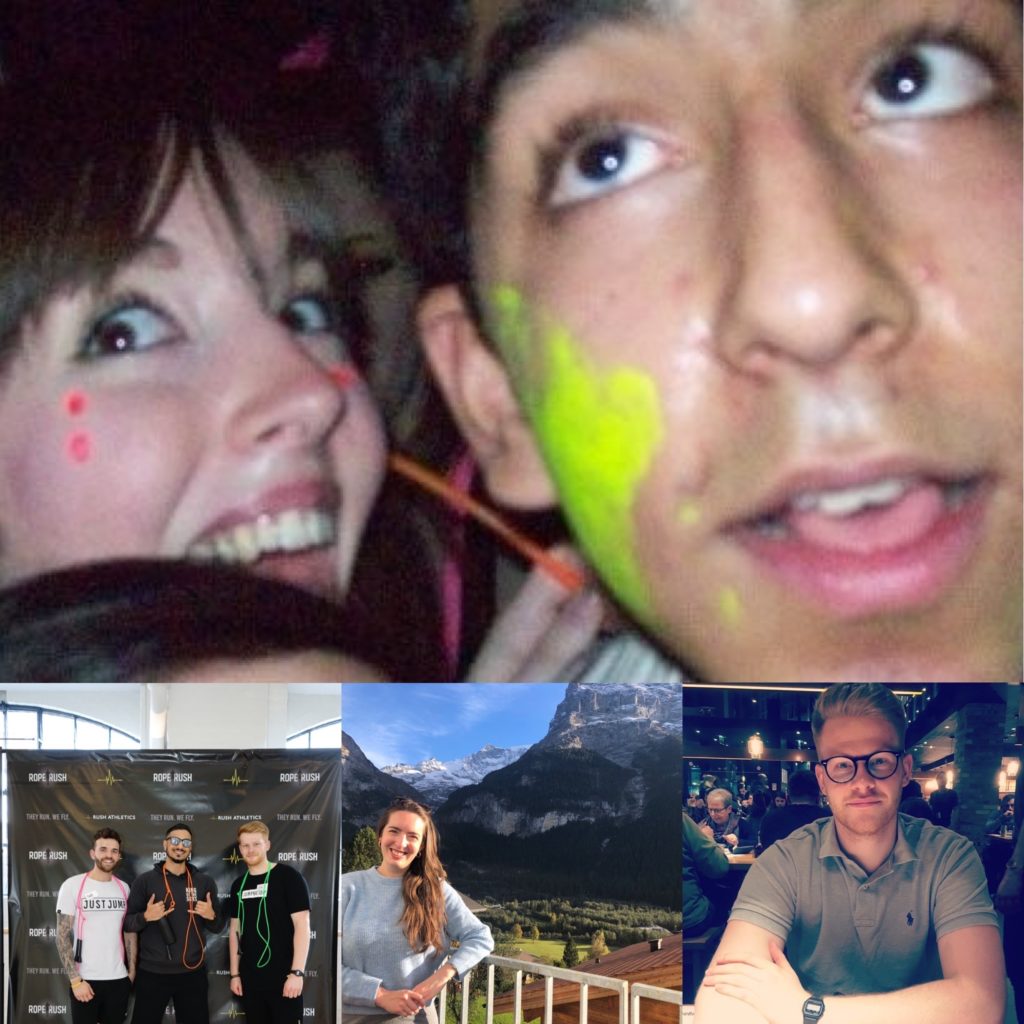 Lucy to Luke: When Mantis joined Ruder Finn, one of the first things I learnt about you was that you are a fitness influencer, taking the skipping rope world by storm! How did this come about? 
A friend of mine, Rob, previously a personal trainer, introduced me to the world of skipping a few years ago when I was on the hunt for an alternative cardio to running. During our first session, I was completely amazed with the speed, control and trickery that he was able to demonstrate. I, on the other hand, could barely string together five jumps without falling over.
From that point on, I was determined to get to the same level as Rob, if not better. Alongside this, I noticed the skipping and jump rope community was growing rapidly online, particularly on Instagram. One of the influencers I was following, Rush Athletics, launched an affiliate programme looking for brand ambassadors. In order to be selected, you needed to post consistent videos of yourself skipping and demonstrating a few tricks, using a specific hashtag. To my amazement, I was chosen and the rest is history.
I attended one of the first Rope Rush events launched in London. A number of these pop-up community events were launched around the UK to meet up with other athletes and Rush Athletics followers. I really enjoyed networking, meeting up with like-minded people and coaching others. Although this is something that energises me, I don't have any burning desires to become Bristol's next personal trainer – the world of PR is something that still very much interests me.
Lucy to Luke: Congrats on your recent promotion to Account Manager. Looking back to your first day at Mantis, what career advice would you give your younger self?
Thanks Lucy, I'm really thrilled about the recent promotion – I'm excited to be taking the next step in my career. In terms of career advice to my younger self, I'd reiterate the importance of networking and always putting your hands up for new opportunities. It can be daunting, but I've learnt to appreciate the value of dropping yourself in at the deep end. The confidence and new skills that you learn from these different experiences are really valuable and will springboard you onto better things.
The second piece of advice would be to never be afraid to ask for help. Although it feels like you're accepting defeat, one of the great things about our line of work is that we're one huge team – there's always someone on hand to offer advice and come up with useful suggestions to deal with challenging scenarios, whether it's a client query or a much-needed fresh perspective.
Lucy to Luke: What is next for Luke Allsop?
As I start my new Account Manager role, I'm looking forward to putting my own unique spin on the client accounts I work on and thinking of new ways to keep the creative juices flowing. I've always had a keen interest in technology as a whole, and in Mantis' case, how it is changing lives and improving the efficiency of the public sector. The Ruder Finn x Mantis integration has been exciting to be a part of, and I'm keen to continue exploring new opportunities that come my way in the months ahead.
Outside of work, I'll be continuing my fitness journey and meeting other people keen to learn more about the world of jump rope fitness. Covid has put a hold on holiday plans for the last couple of years, so I'm buzzing to finally be going to my first Glastonbury festival in June and touring around the Game of Thrones filming locations in Dubrovnik come July.
Luke to Lucy: You went to university in Leeds, what are your fond memories of THE NORTH?
Between the Otley Runs (a pub crawl consisting of 15 pubs over a course of 2.3 miles, fancy dress: compulsory) and takeaways from 'Flames' (specialising in fried chicken, calzone, shawarma, curry, and just about everything in between), my fondest memories are of my course and the friends I made along the way.*
I studied English Literature and, as a bit of a LOTR nerd, was thrilled to find out that JRR Tolkien was a former student and professor at Leeds, meaning that I could opt to do a module on The Lord of the Rings! The only thing that could surpass that, would be doing an Otley Run with Tolkien himself.
*Oh, and getting a selfie with pre-BAFTA-Award-winning Dev Patel at our Union's 'Skins' night.
Luke to Lucy: Tell me about your early career and what inspired you to venture into the world of internal communications specifically?
I decided pretty early on in my career that I wanted to work in communications. Having done a degree in English, I was keen to find a job that involved writing of some description – which led me to my first role in internal comms consultancy, also giving me a taste of working in client services.
Although my work at that time mainly revolved around pensions communications (not the sexiest thing to communicate), I loved having free reign to bring my creativity to an otherwise – let's be honest – rather dry subject matter. I remember one of my clients saying he noticed the more "whimsical tone" of their company's annual pensions newsletter the first year I drafted it, which I, of course, took as a huge compliment – and a clear sign that internal comms was where I was meant to be.
After six years of encouraging people to contribute to their pension accounts, I tried my hand at agency life, spending a couple of years on the external comms side at a creative content-marketing agency, before finding the 'best of both worlds' at Ruder Finn.
Luke to Lucy: Talk me through some of your highlights at Ruder Finn, what have you achieved in your role that you're really proud of?
One of my career highlights at Ruder Finn was leading a workshop for Novartis at their Oncology Town Hall, focused around culture and purpose. It's a real privilege to attend events like that one, where we can support our clients and see the impact of our work first-hand.
I'm also super-proud to be part of an award-winning Internal Communications & Engagement team, winning a total of 13 awards for our work with AstraZeneca over the past three years – including, not one, but two Institute of Internal Communications "Grand Prix" awards. We hope to add some more trophies to our awards cabinet this year…watch this space!